Where does she come from?
Capucine is one of the 5 winners of the contest "Create a character - EXTRA - until 31 march 2011" ( Amour Sucré, french website ) to become a new character on My Candy love.
She was created by Allyne, then re-drawn by ChiNoMiko.
Who is she?

Edit
Name: Capucine
Age: 16 years old
She is new to the school from a middle class family. She loves fashion, shopping and likes to dress chic and elegant. She loves music and classical ballet. Yet she is very shy and mysterious, but she tries in vain to make friends. Capucine is influenced by Amber's group (she believes Amber gives "good advice"), and can be quite a gossiper. She can be a bit rude to Your Candy (but not mean) and does not always keep the secrets you tell her. She is intrigued by the high school's boys, but seems to especially enjoy Jade , she finds him enticing. She also dislikes concerts.  

Appearance:Edit
Capucine has big bright-green eyes that narrow, somewhat pale skin, and carmel-colored hair styled to be in side-swept bangs.Her bangs and tips are dyed a hot-pink color. On her head, she has a hot pink, plastic headband with frilly material on her left side. She usually wears a puffy, light pink dress with a thin, purple ribbon tied above her waist-area. Her dress seems to show a small shadow on her upper thighs. She has a blue cropped jacket with a small, almost-covered pink and gold logo. Around her long neck, she wears a light pink (almost white) pearl necklace. She has good posture and stands up straight. Her arms are behind her back and she looks like she's about to curtsey.
Likes: Jade, Amber, gossiping, fashion, money
Dislikes: Your candy (sometimes), concerts, exercise, the outdoors
Images : Capucine, by Allyne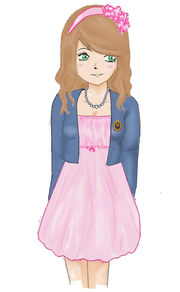 Fan Icons
Edit