Melody


Characteristics
Gender
Female
Height
5'5.5'' ft (166 cm)
Weight
125 lbs (56 kg)
Blood Type
AB+
Birthday
September 30th
Sign
Libra
Hair Color
Brown
Eye Color
Blue
Likes
Nathaniel, Hard work and love stories.
Dislikes
Shameless people, and people that get too close to Nathaniel.
Professional statistics
Occupation
High school student
Relatives
Josefa (Mother)
Henry (Father)
First Appearance
First Appearance
Episode 5

Melody is one of the five winners of the contest "Create a character -  EXTRA  - until 31 March 2011 (Amour Sucré, French website[1]) to become a new character on My Candy Love. She was created by Vivi[2], then redrawn by ChiNoMiko. Although, not much was changed from her original picture.
About
History
Appearance
She has sky blue eyes and wavy brown hair pulled back by two blue hair clips. Melody wears a simple light pink ribbon tied around her neck, and a sky blue top with ruffles at the elbows, waist, and chest area. On her right arm, she wears two plastic bracelets — the top bracelet is light pink, and the bottom one is yellow. She also wears a short, white skirt with a slit opening on her left side and a floral pattern near the slit . 
Personality
A quiet and studious student, she enjoys pastries and playing the piano. She thinks very logically, but she appreciates the funny and surprising people. Melody is very kind to your Candy.
In Episode 12, Melody admits to having a crush on Nathaniel, and asks you not to tell anyone, since she doesn't want anyone to know she was "rejected" by him before.
In Episode 14, Melody admits she knows how to play the triangle, but stopped playing since she doesn't own one anymore.
Despite how nice Melody is, cracks in her sweet personality start to show if you get close to Nathaniel, she seems to still have a crush on him and gets jealous of your closeness with Nathaniel.
Friends and Family
Iris
Violette
Kim
Capucine
Your Candy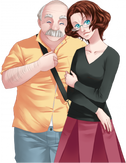 Melody and your Candy seem pretty close. They get along very well considering her personality. However no matter if your target is Nathaniel or not, Melody will begin to show darker sides of herself.
Nathaniel
Melody has a crush on Nathaniel and gets jealous when your candy is with him. It is revealed that Melody had asked out Nathaniel but he had rejected her.
Her Parents
Manga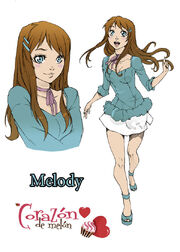 In the Amour Sucre manga, Melody makes several appearances. She can be seen mainly hanging out with Iris, especially when Lynn is late for the camping trip. Melody seems to care about Lynn and, even though she doesn't get as stressed as Iris, she still worries where Lynn is. As the bus begins to leave, Melody drags Iris with her so that they don't get left behind, though Iris still talks on her phone with Lynn to try and find out where she is. When Lynn finally makes it to the bus, Melody can be seen, along with Iris and Violette, looking starry-eyed in happiness at her friend's arrival.
Once the class arrives at the camping grounds, Melody can be seen with Nathaniel as they look through a travel bag. Both look confused as they turn to Mr. Farazie while asking him if it's normal to have a banjo in their camping gear, with Nathaniel holding up a banjo. While Mr. Faraize gets flustered, Melody remains silent, though she is clearly confused about the whole situation.
Reactions
Illustrations
Trivia
Her name is originally spelled as Mélodie.[2]
Contest Entry
Melody was one of the five winners of the contest "Create a character - EXTRA - until 31 march 2011" on Amour Sucre. By winning the contest, she became a new side character to the My Candy Love world and was redrawn by ChiNoMiko. Vivi created Melody and even after being redrawn, very little changed about her appearance, but her personality has begun to change a little since the older episodes compared to what Vivi had developed for her.
Voici ma participation:
Prénom: Mélodie
Age: 16 ans
Description: élève discrète et studieuse, elle aime les pâtisseries, joue du piano. Elle pense de façon très logique, mais elle apprécie beaucoup les gens drôles et surprenants.
A rough translation
Here is my contribution:
Name: Melody
Age: 16
Description: a quiet and studious student, she enjoys baking and playing the piano. She thinks very logically, but appreciates funny and surprising people.
References