Home
Talk

0
153pages on
this wiki
Updates!
Here you can find all updates to the Wiki! If you want to see past updates to the wiki, please see Updates Archive.
If you want to see the latest changes, check the Wiki Activity.
Updates!

Hello Candygirls!

You may have heard about a surprise for when we reached 3 million players… And here it is! n__n

Hello!

It's almost Valentine's Day, and we are bringing a new (permanent) improvement to the game as well as exclusive outfits to win until February 28th (included)!

2/9/15 Episode 24 is available!

Episode 24 is now available!

Episode 24 - Furballs Now that Nathaniel's secret is out in the open, the tension has died down and the school is happy once again. It's time to take a trip to the Pet Shop! Puppies, Kittens, Rodents... Your friends don't know in which direction to turn. Will one of them crack and adopt a little furball?
Please continue to help support and help the wiki grow! Please also be considerate to the admins hard work, DO NOT EDIT ADMIN EDITS.
__________________

!! October, 14th 2014 !!

Hey everyone!
We so appreciate all of the help from our new members! A lot of old contributers have left us these days, but we hope that maybe they will help out again someday perhaps.
As for what our admins have been working on lately in the re-vamp:
☆☆ Episode Pages: Preview Videos, Summaries, Gifts, Quest items, Episode Guides, and love o' meter guides, all on one page for ease of access! Check it out!☆☆
☆ Characters
☆ All clothing items index
☆ Events
☆ Sneek Peaks
☆ Merchandise
☆ AND MORE
We hope you will all look foreward to these advancements and hope to see you all get into the action too!
See you!
-Rocky, Puku, and the My Candy Love Wikia team
Welcome to the My Candy Love Wiki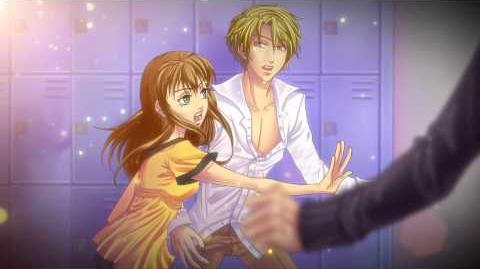 My Candy Love: a brand new online flirting game for teen girls!
With new episodes updated regularly, meet a multitude of different characters, make your own decisions, conquer the hearts of the boys you like and create your own unique story!
You can find a link to the MCL forum topic for the Wiki Here
CREATE YOUR CHARACTER Customize your character, choose her astrological sign, choose from several different hair styles and colors. Adapt her style using the variety of clothing available in the store as you advance through the episodes.You can also decorate your room with the items you win in the game.
CONQUER THE HEARTS OF THE BOYS THAT YOU LIKE AND CREATE YOUR VERY OWN UNIQUE STORY
Meet different boys, talk to them and try to conquer their hearts. Will you know how to get them to like you? Through a system of dialogues and various actions, watch your story develop as you make different choices. The episodes have several endings. With replays, you can try to discover them all!

GO OUT AND DISCOVER THE TOWN
Get to know the town, its shops, its school... Meet different characters who will give you missions. Fulfill the quests that they entrust you with in order to advance through the game.
USE YOUR RINGS!
Aquire rings with specific effects to achieve your goals more easily or create unexpected situations.