Your
phone
is located on your desk in your apartment.
It is used to check your messages, whether they are friend requests from other My Candy Love Users or actual messages from other members to chat. You can also find out if you receive any mortal pillow requests by checking your phone.
Appearance
A small, pale pink and white flip phone with a heart-shaped charm sticking out of it.
Update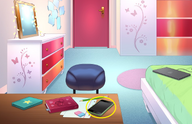 In the 2017 update, the phone was given a redesign and upgrade. It has gone from a flip phone to a green touch screen.
The phone can also be accessed on the side of the user interface window on top of the page, above the AP marker.
Trivia
Gallery