SallyAnne


Biography
Pseudo
SallyAnne
Name
Orlane
Sex
Female
Age
-
Birthday
-
Sign
Aries
Professional statistics
Game Creation Position
RETIRED - Writer of My Candy Love/ Amour Sucre
Site Rank
Normal Memeber / RETIRED - Lov'Admin

Write the first paragraph of your page here.
About
Write the first section of your page here.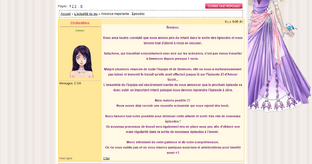 October 16th, 2014 - SallyAnne was officially and publically demoted from her position as a scriptwriter at Beemoov. 
"Hello, As you all have realized, we have fallen behind in the output of the episodes and we would like first for you all to forgive us.
SallyAnne, who worked together with me on the scenarios did not come to work at Beemoov for almost 1 month. Despite several reminders of the entire team and Beemoov. Unfortunately she has left us and did not transfer the work she had done so far on episode 23 of Amour Sucré…
All of the the team is sincerely sorry to announce that the next episode is going to suffer a significant delay because we have to take the episode back to zero.
However, remain positive!!! We have already recruited a new writer who joined us on Monday.
We are making every effort possible to reduce this waiting and come out quickly with the new episodes! A new work process will also be set up shortly to get a real consistency in the release of new episodes in the future.
Thank you very much for your patience and your understanding. We have not forgotten you and there will be a few surprises and improvements as soon as possible! <3"
-ChiNoMiko via Amour Sucré
Links
Gallery
Trivia
Ad blocker interference detected!
Wikia is a free-to-use site that makes money from advertising. We have a modified experience for viewers using ad blockers

Wikia is not accessible if you've made further modifications. Remove the custom ad blocker rule(s) and the page will load as expected.