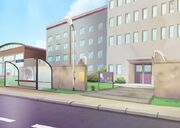 Entering the school will bring you to new areas to meet up with the boys, classmates, as well as enemies. Make sure you're on as good of terms with people as possible, you never know, maybe one day you might find that special someone.
Areas the school links to
Within the school, you can find tons of new places to explore.
Hall 2
Classroom B
Staircase
Locker Room
Basement